Cycling guide - CycloVagabond
GO ON A BIKE TRIP WITH AN EXPERIENCED GUIDE !
For a while, you have only been dreaming of one thing: going on a cycling trip. Indeed, you are burning with desire to discover the world by pedaling and to enjoy the landscapes at a contemplative pace. You imagine meeting the locals and taking the time to chat with them during your cycling trip.
However, the idea of ​​wandering alone, on bike paths and trails, does not appeal to you. On the one hand, organizing a trip is not your best ability. On the other hand, pedaling alone and having only your handlebars and your GPS for company risks causing knots in your mind.
So, what if you go cycling with a bike guide ? « Even the longest of journeys begins with a first step. »
CYCLING TOURISM WITH A BIKE GUIDE, A DREAM LEISURE !
Going on a cycling tour with a guide who takes care of all the logistics of your stay, does that leave you wondering ? Well, that's what I offer you by planning your entire trip. Whether you are a beginner or experienced, solo or in a group, I will take you on cycling trips on major routes by offering my assistance.
Without worrying about the organization, you get out of your comfort zone by going beyond your physical and mental limits. Every day, you rack up the kilometers on your 2 wheels, with the strength of your legs. Say that cycle tourism with a bicycle guide is a good opportunity to do sports while traveling !
Beyond the physical well-being provided by bicycle tourism, you visit new places while limiting the impact on the environment. And since your means of transport does not need fuel and you have the possibility of sleeping in nature, you save money. Therefore, you can travel longer by seeking the advice of a bike guide.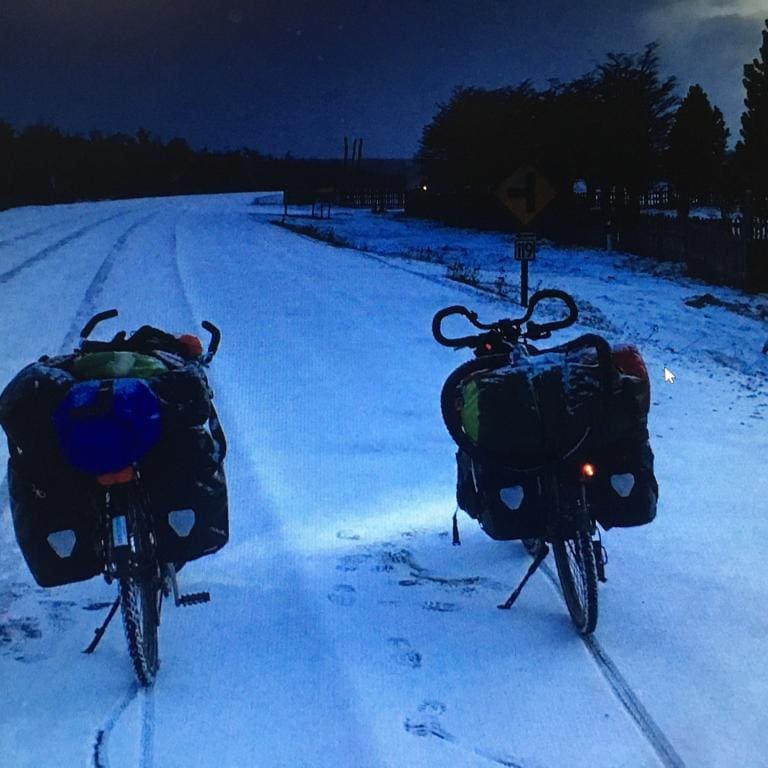 BICYCLE RIDING, A PASSION AND A GOOD PEDAL STROKE !
CycloVagabond, who I am ?
Have you managed to get rid of your uncertainties ? Are you ready to take the leap ? So let me introduce myself : I'm Giuseppe, a cycling and mountain bike guide. I have a bicycle guide license for long distance trips. I am also a mountain bike and enduro guide at Bike Discovery Tour.
Passionate about traveling by bike, I have already cycled on many tourist cycle paths such as the Vélodyssée, the Canal du Midi by bike or the Véloscénie. I crossed France, the Netherlands, Patagonia and several passes in Haute-Savoie. We can also say that the cycling routes around the Lakes in Northern Italy hold no secret for my calves ! Not to mention the European capitals in which I like to stroll on the handlebars of my Gravel. Far from my wheels, the annoying traffic jams in Paris, Berlin or Amsterdam !
And since the 4 corners of the planet are constantly watching me, I haven't finished my exploration! My next trips ? Roaming between Pakistan, Nepal and Tibet, crossing Kyrgyzstan by bike, popping round the Lofoten Islands in Norway, etc. Don't worry, there wouldn't be enough space on this page to spread out all of my cycling projects…
Enough blah-blah ! I organize your cycling trip from A to Z in order to create a unique experience for you at the end of the world or… a stone's throw from your home.
I take you on a bicycle tour across borders, by train or by plane for a weekend, a week or more. Dare to criss-cross the planet in cycle tourism with a cycling guide !
Enthusiasts of Gravel, Electric Assistance Cycling or mountain bikers, I invite you to discover new cycling destinations. On long distances with panniers or for a bikepacking experience, take advantage of my knowledge in the field.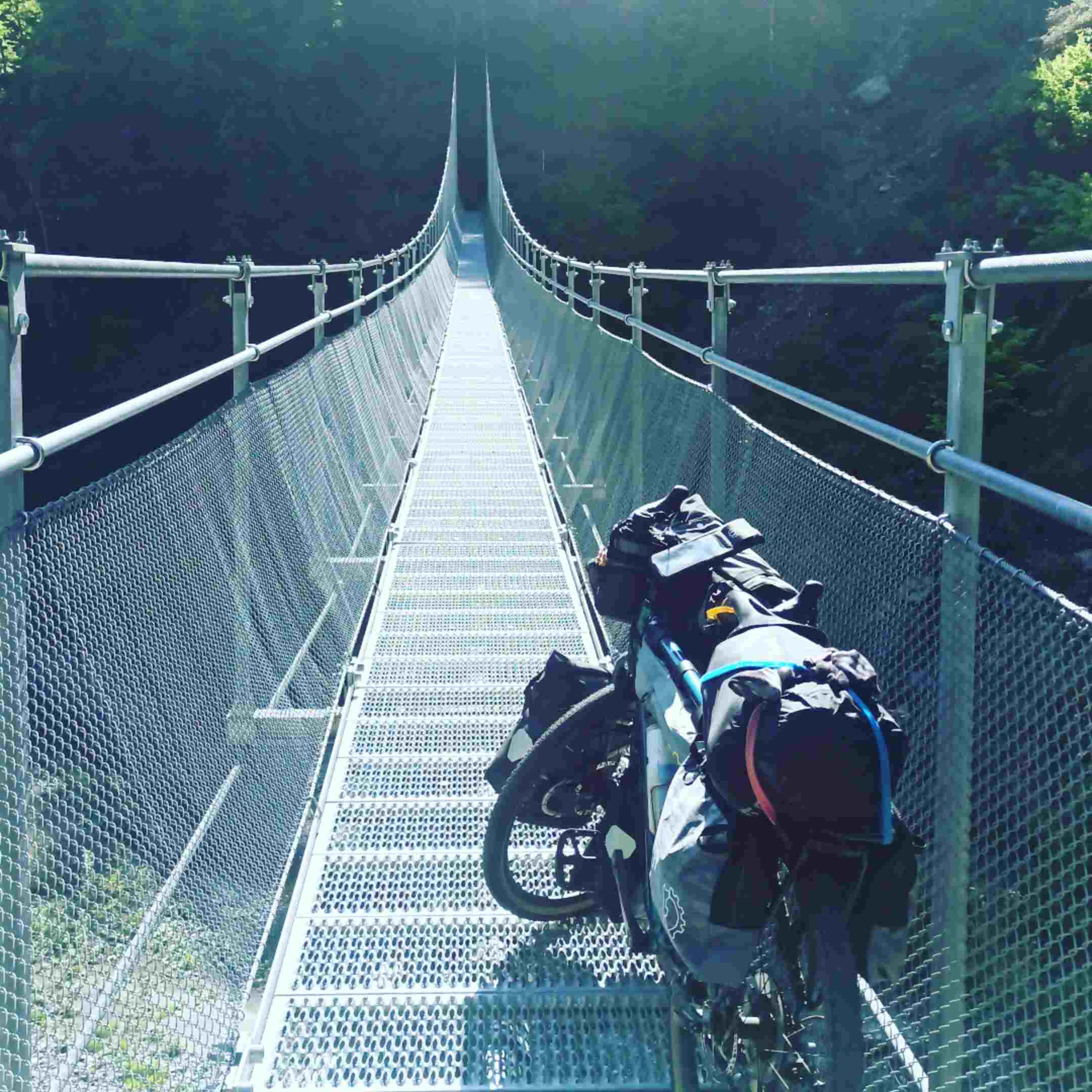 A TAILOR-MADE BIKE GUIDE SERVICE
THEY CYCLED AROUND THE WORLD WITH ME « Giuseppe a organisé mon premier voyage à vélo de A à Z. Il a fait preuve de bienveillance, d'écoute, tout en s'adaptant en permanence à mon niveau et mes besoins. Ce séjour s'est passé à merveille. »
« Bella esperienza con partenza da Chamonix pedalando sulle rive del Reno in Svizzera . Giuseppe è molto attento alle esigenze e alle caratteristiche del biker . Disponibile e con buoni consigli visto le mie prime esperienze nel mondo del viaggio in bicicletta . È di ottima compagnia. Lo consiglio. »
« Very nice man and unbelievable experience. »
WANT TO GO CYCLING TOURING WITH A BIKE GUIDE ?
Questions about the bike ride ? Read on !
A lot of good reasons encourage you to get into cycle tourism with a bike guide ! Let's review the best ones :
To give yourself a pure moment of pleasure : it's so simple and yet true ! Pedaling with the hair in the wind – through the ventilation holes of the helmet, essential ! – gives pleasure. You slow down the hectic pace of everyday life and you travel for free, who says better ?
To take care of your health : when you have your feet on the pedals and your nose in the handlebars, you move. And that is one thing our body loves! He thanks us by keeping us in good shape and in good spirits.
To save money : going on a cycling getaway for 2 days, 8 days, 1 month or 1 year means visiting a region of the world at a lower cost. Indeed, there is no need for fuel and you can sleep in nature without spending a penny. In this case, we say : long life to cheap cycling holidays !
To preserve the planet : cycling is an ecological and sustainable choice. Less noise, less pollution, in short, fewer cars. We ride in silence, without emitting greenhouse gasses with our vehicle. We limit our impact on the environment without sacrificing our passion for travel.
In short, cycle tourism is accessible to everyone. From 0 to 99 years old, bike riding is great and allows you to move in slowlife version of yourself.
WHERE TO SLEEP DURING A BIKE TRIP ?
The accommodation you choose during your tour depends of course on the type of cyclist you are and your budget. There are many ways to stay for the night when cycling from one place to another :
The hotel : a hot shower, a comfortable bed (or not!), clean sheets and even breakfast await you in a hotel. I must admit that after long hours of pedaling – sometimes in dust and slush – finding a cozy little room is a pure moment of happiness !
Camping : an inexpensive formula for globetrotters, camping allows you to have a good shower at the end of the day. Then, you slip into your tent and sleeping bag, while remaining in contact with nature.
The bivouac : also called wild camping, this is a very practical way to sleep while roaming. Yes, no obligation to book, no need to unload the panniers, no unpleasant surprises in terms of comfort – we sleep in the middle of nowhere ! – total connection with the fauna and flora and it's free.

And then, if you feel like it, you can also sleep with locals. In a spirit of benevolent exchange, the Warmshowers platform connects bicycle travelers and locals who offer to accommodate cyclists.
HOW TO CHOOSE YOUR CYCLING TOURISM EQUIPMENT PROPERLY ?
Indeed, here is an essential question! First of all, beginner or expert, any good self-respecting cyclist begins by drawing up a list of essential equipment for his cycling trip. However, the gear you choose will depend on your personality and the type of trip you are embarking on. It goes without saying that a minimum of quality accessories is required such as sleeping bag, tent, saddlebags, helmet and adequate clothing.
To avoid cluttering up with equipment and avoid excess weight, sort it out before the day of departure. If this is your first bike trip, don't panic ! It is normal to put too much in your bags. Know that it is always possible to offload some useless belongings along the way. To do this, all you have to do is make a package of it and send it to where it will no longer bother you. And since it happened to me a few times when I started out, you can now count on my experience of bicycle luggage to help you choose your equipment.
WHAT BUDGET FOR A BIKE TRIP ?
Good news : cycle tourism is within reach of all wallets! For small budgets, nothing could be easier to save money. A bivouac, a stove to cook your meals and your calves to move forward are enough to make you spend a cycling tour without breaking the bank.
On the other hand, if you have put money aside to make your bike trip, you can treat yourself to nights at a hotel or camping. It costs you more than in bivouac mode, but you offer your cyclist body additional comfort.
In any case, once the material has been purchased, the expenses relate only to transport tickets, accommodation, food and extras such as the purchase of souvenirs.